Hamble Parish Council
Community Alerts, Partners & News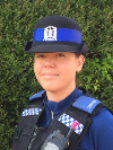 PCSO 13308 Hannah Jeffcoat
Hedge End Neighbourhood Policing Team
Tel: 101
HAMPSHIRE ALERTS
If you live or work in Hampshire or the Isle of Wight, you are invited to register to become a recipient of messages of information, crime alerts and witness appeals local to the area in which you live or work in a way that suits your needs and lifestyle by email, text or telephone. Just click on the link below to register.

As a registered recipient you will not only benefit from two way messaging but may also hear about positive police action in your community, help identify suspected or wanted criminals or learn about community groups, events or meetings in your area.

PLEASE NOTE: THIS SERVICE IS NOT FOR REPORTING CRIMES OR INCIDENTS - TO REPORT THESE PLEASE CONTACT HAMPSHIRE CONSTABULARY ON 101.
BP HAMBLE
As the BP Oil Terminal at Hamble stores a range of highly flammable petroleum products and crude oil, it is subject to government safety regulations known as COMAH - Control of Major Accident Hazards. The terminal operators and the local authority have prepared emergency plans to deal with any incident in the unlikely event of one occurring.
The current COMAH safety instructions can be downloaded by clicking here.
Please contact Hamble OiI Terminal on 023 8045 6028 if you have any queries, or if you require additional copies or a large print version of this information.